Spring has sprung and summer is around the corner, which means it's time to start planning the warm-weather wardrobe. So far I have two items planned for the making.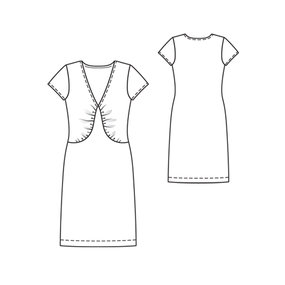 Image from Burdastyle Jersey Dress #109 - link
I bought this pink-ish patterned jersey at the Noordermarkt in Amsterdam, 5 euros per metre. I had been especially on the look out for patterned jerseys (why are they so hard to find?) so was pleased to find this one. I am planning to use it to make Burdastyle's Jersey Dress #109, except I'll be making the sleeves longer so that it's work-friendly for the summer. Of course I'll need to get my overlocker threading issue fixed before I start, then hopefully I can use it to knock up almost the whole thing.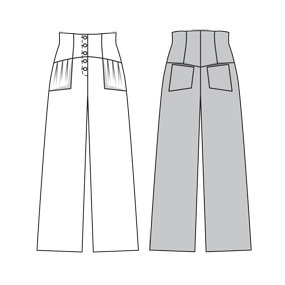 Image from Burdastyle's Bella high-waisted trousers pattern - link
I thought I would attempt the high-waisted shorts look this year, although I couldn't find a pattern for high-waisted shorts, so I am using Burdastyle's Bella trousers pattern instead (I just find it so convenient to download patterns at home, which is why I keep going back to Burdastyle). This denim-look cotton was a hand-me-down from my Nana's fabric stash. It's a nice medium-weight cotton with a grainy denim look. It'll be a bit of a challenge - I can't remember the last time I did buttonholes - in fact, my sewing machine will need a service before I attempt tricky little things like those. So it's off to the repair shop for me before I get much further with my plans.
I've recently started a new (full time) job, so my sewing output has decreased somewhat. But my plan is to try to have these two finished before the end of October, so that I can get a good summer's wear out of them both. Let's see how I go...